Born and raised in Oklahoma, Joel Ledlow had a very humble beginning. He started his martial arts career at the age of 13 with wrestling. He had so much passion to be the top of his team and continued wrestling until he graduated High School. He owes a lot to his coach, Angelo Fertonani, who taught him to believe in himself.
He then attended the University of Oklahoma, where he eventually found his way into the Theater Department, and began to take dance classes. Once again, Joel had an outlet for physical movement which was his passion. He trained in ballet and many other styles of dance, and was even asked to join the ballet troupe. Looking for more than the school could provide, Joel transferred to the UCLA School of Theater, Film, & Television. He found an expansive movement program and for his two years at UCLA, Joel completely immersed himself in that program. During his final quarter at UCLA, he took a stage combat class with Ed Monaghan. This class would change his life forever and take him fully into the world of martial arts. After graduating from UCLA in 1997, Joel began training at Combative Arts Academy, Ed Monaghan's school in Los Angeles, and began working toward his black belt. While his degree was in theater, it quickly became apparent that he was more interested in going to a martial arts class than an audition.
In addition to training with Ed Monaghan, Joel also trained with other world class martial artists in Muay Thai, Savate, BJJ, Tai Jitsu, Kali, Judo, and Aikibujitsu at Combative Arts Academy. It was also through Ed that Joel met and trained with Jerry Poteet.
However, Joel's theater degree was not put to waste! He began assisting Ed with the stage combat classes at UCLA and with UCLA's prestigious Summer Theater Camps for high school students. Joel would go on to substitute often for Ed's UCLA regular classes and take over much of the stage combat during the Summer Camps.
In 2001, Joel's degree also led him to teach at the Sho Kosugi Institute in Tokyo, Japan. Joel spent a year teaching kids while exploring the rich and wonderful culture of Japan, including some martial training in Aikido.
Returning to Los Angeles, Joel again trained at Combative Arts Academy and began searching for employment. It was a friend and fellow student who recommended Joel start working security and helped him get hired at one of the hot spot clubs in Hollywood. Joel's martial skill, along with his friendly manner, quickly moved him up the ranks.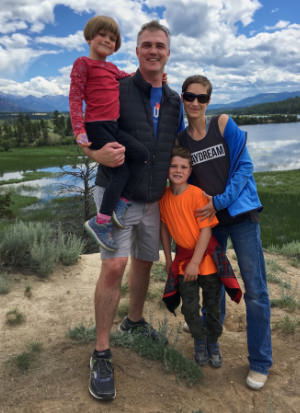 Joel continued to train and teach at Combative Arts Academy while working security. It gave him some valuable perspective for his training. In 2005, Joel tested and received his Black Belt in Kung Fu from Ed Monaghan. Afterward, he would increase his training and in 2006, Joel took a monumental step and become a private student of Jerry Poteet. By the end of 2008, Joel had been teaching many more private students while working security at Katana in Hollywood. He wanted to ween himself off working security, but luckily, he stayed at Katana long enough to meet his future wife, Catherine. It seems that his Theater Degree would come in handy one more time, as Catherine had been a performer on Broadway and National Tours. They were engaged within 6 months of meeting, and were married a year after that.
Catherine got pregnant during their engagement, which only pushed ahead when they had wanted to have their first child by 9 months. It made for a very busy summer! On June 20th, they were married in Los Angeles, surrounded by family, friends, and more than a few martial artists! They moved to Oklahoma by the end of the month, found a place to live in July, opened Joel's first martial arts school on August 16th, 2010 and welcomed his son Elliot into the world on August 26th. Married, moved, school opening, and baby all in one summer! The school continued to grow. Joel was teaching Duo Ji Kung Fu to the kids and Jeet Kune Do to the adults.
On Sunday, January 15th, 2012 Jerry Poteet died. Everyone that truly knew him was devastated. Joel wanted to honor his teacher by sharing what he had learned from him: true Jeet Kune Do. That night in class, the students heard the news.
Later that year, while Catherine was finishing her nursing studies, she became pregnant with their second child. Their daughter, Quinn was born on May 18th, 2013. On June 24th, Catherine was diagnosed with a brain tumor. She would have an awake craniotomy days later (which she thought was super cool). After surgery came chemo and radiation treatments. She was given 2-6 years to live and while there was a great deal of help and support in OKC, it was decided to move the family to Winnipeg, Manitoba where Catherine grew up. By the next summer, Catherine having had her last chemo treatment, they moved.
It was a very tumultuous time in their lives. Catherine was recovering well, they bought a house, and Joel was working diligently to transition the school in Oklahoma City and finding a location for his new school in Winnipeg.
In January 2015, Joel began teaching Kids Kung Fu and Adult Jeet Kune Do in the Winnipeg area of River Heights. The family has continued to flourish and grow. Catherine is healthy and happy (her tumor is stable), performing and doing choreography in local productions, as well as teaching musical theatre. Elliot and Quinn are both taking Kung Fu (and dance!).