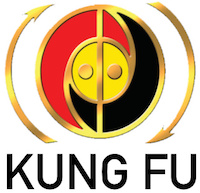 The Duo Ji Kung Fu program takes a broad approach to martial arts cultivation. Students develop striking skills with hands, kicking, tumbling, throwing, grappling, restraints and how to counter each of these.
This is great for the overall development of a student. The coordination and strength development students get from this training has a huge impact on creating and maintaining a healthy lifestyle. 
Training in Kung Fu is not about fighting.
Students are cultivating awareness, understanding, and creativity in movement.
We challenge the Body, the Mind and the Spirit. For a martial artist, the physical movements are backed by a keen mind and driven by a strong spirit. These qualities must be cultivated.
Classroom Experience
Students have a formal bow in at the beginning of class. They are then taken through warm-ups and into various drills that focus on developing strength, flexibility, focus, dexterity, balance, awareness, and confidence.
Students will work as part of the whole class when doing warm-ups, stretches, and instructor-led drills. Smaller groups are often formed to cover skill variations or rank level drills. An example would be one group working on back falls, another group working
on front shoulder rolls, while a third group works side falls. They will also work with partners to drill with focus mitts, kick shields, or to work grappling.
Class ends with a formal bow out, and then students are released to their guardians.
Uniforms: A school shirt is required. Cost is $25. Shorts/pants of choice. Students may wear indoor shoes or train in their socks. 

All classes are guided by our 3 Rules. These are used to help guide students into self-regulation of their actions. Class sizes are limited so that the instructor can help each individual with their physical movements and their personal growth.
Rule #1 Listen to Trusted Adults.
Rule #2 Don't Hurt Anyone.
Rule #3 Have Fun.
Discipline
The Instructor gives positive reinforcement of good behavior. Inappropriate behavior is addressed and examined using the 3 Rules. We often tell our students, "How are you supposed to know, if we don't tell you?" This is a learning environment for them, and we treat it as such.
Some students do better with a physical element. They might be asked to do 5 squat jumps. Sometimes, kids just need to expend a little energy too. We never ask our students to do something that we are not willing to do with them. Many times, we need to lead by example, doing the squat jumps or push-ups with them.
Ultimately, the goal is to lead them toward Self-Evaluation which leads to Self-Correction that develops into Self-Discipline.